Are you looking to purchase new replacement windows for your home or office space? With the different styles and types of replacement windows available in the market, customers often feel overwhelmed with the choices available. Two common replacement window options that have been discussed in detail below are casement windows and double hung windows. Both options are suitable for taller windows and each one comes with a distinct set of pros and cons.
Read on to find out more details about each type of window and why a windows installer would recommend one type over the other.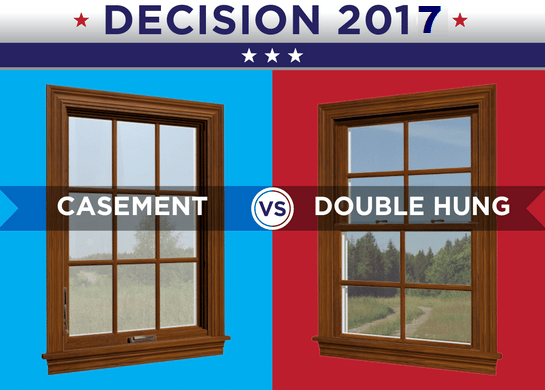 1) The styles of the windows

Casement windows have their screen on the inner side and can therefore be matched in color with the window interiors. The double hung windows on the other hand have screens on the outer side of the window.

2) Outdoor views offered by the window

If you are keen about obtaining an unobstructed view of the outdoors, then casement windows are the best option. This is because, the double hung windows comes with a horizontal rail right in the center and this rail is mostly placed at the eye level. This could potentially prohibit the outside view for the home owner.

3) Cost of windows

The cost of replacement windows varies from one windows installer to another. However, in general, the cost of casement windows and double hung windows are almost the same. Small differences in cost may arise due to factors like the constituent material, type of glass used for the window, reputation and experience of installer, brand and so on. In any case, property owners must always opt for quality replacement windows to save more in the long run.

4) Location of replacement windows

If you are looking to replace the windows in your kitchen, then the casement windows will serve the purpose better as they are easier to open and close than double hung window models. The installer must ensure there is sufficient space for the casement window to open outwards. Since, this issue does not occur with double hung windows, they are suitable for patios, walkways and decks. Most home owners prefer double hung windows for their bedrooms as these windows comes with an upper and lower sash and allow optimal ventilation for the room.

5) Ease of cleaning
The casement windows open to 90 degrees and can be cleaned on both sides from inside the home.  Double hung windows have easily-operable sashes and can be tilted to allow effortless cleaning inside, out! With a little effort and attention both types of windows can be maintained in their best form for a long time.
Conclusion:
The choice between double hung and casement windows is really a matter of personal choice and need. High quality windows of any type can be chosen and due attention must be paid to other factors like energy efficiency, glass options and product guarantee before making a final choice. And most importantly, property owners must choose a windows installer who offers free windows estimate and ensures safe and budget-friendly window replacement experience.