OKNA SERIES 500-  SLIDING WINDOWS
Okna Insul-Tec Sliding Windows
Maintenance free rigid multi-chamber vinyl profile.

Full 3¾" Depth Welded Mainframe with beveled colonial exterior features curves that are not only beautiful but also allow for maximum weld surface resulting in superior strength and years of long-lasting performance.

Heatseal® warm edge spacer system for excellent thermal efficiency and a drastic reduction in the possibility of condensation on the inside of the window.

Full integral interlock with double weather-stripping.

Optional Auto-Lock features an exclusive automatic locking system which is easy to engage.

Heavy gauge fully extruded handles on both sashes.

Fiberglass mesh half screens standard on all windows.

Optional locking screen provides an additional safety measure.*

Available in Replacement and New Construction applications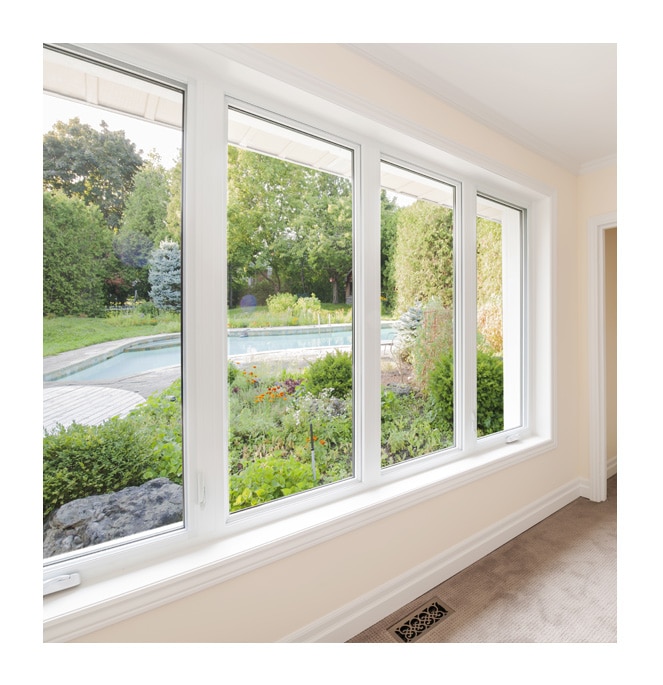 We beat ANY written estimate and offer free estimates with no obligation.
OVERVIEW
Our company offers 2-lite and 3-lite (shown) sliding windows.
Full 3¾" Depth Welded Mainframe with beveled colonial exterior features curves that are not only beautiful but also allow for maximum weld surface resulting in superior strength and years of long-lasting performance.
Our window opens easily because it is mounted on brass wheels which allows the slider to smoothly glide across its track.
Push Button Spring-Loaded Night Latches add security while allowing both window sashes to remain partially open for ventilation.
Standard factory-installed bumpers ensure quiet operation.
Optional Auto-Lock features an exclusive automatic locking system which is easy to engage.
Our company offers three exterior color selections in addition to the standard Euro-White option to give your home a distinct look and enhance its curb appeal. You can also special order custom exterior colors from a virtually unlimited selection of paints. Our paints are environmentally safe and durable, giving your exterior a vibrant and long-lasting color finish.
Energy Star
Comparison To
Glazing Option
U-Value
SHGC
VT
CR
Minimum*
Energy Star Minimum
Dual Glazed
Clear Glass
0.45
0.60
0.62
46
0.30
Does not qualify
With ESP
0.27
0.30
0.54
62
0.30
10% Better
Deluxe
0.26
0.30
0.54
62
0.30
13% Better
Triple Glazed
With ESP
0.21
0.26
0.42
70
0.30
30% Better
Deluxe
0.20
0.26
0.42
71
0.30
33% Better
Deluxe/krypton Gas
0.16
0.26
0.42
74
0.30
47% Better
U-Value, SHGC, VT, CR values may slightly change for windows made with GBG (Grids Between Glass)
SHGC – Solar Heat Gain Coefficient
VT – Visible Transmittance
CR – Condensation Resistance
ESP – Energy Saving Package
CIT – Currently In Test
* Northern Climate Zone
| | | | |
| --- | --- | --- | --- |
| | | Industry | Comparison To |
| | Our Windows | Minimum | Industry Minimum |
| | | | |
| AAMA Rating | R 40 | R 15 | |
| Air Infiltration cfm/ft2 | 0.09 | 0.3 | 333% Better |
| Water Penetration mph | 59 | 33 | 79% Better |
| Structural Integrity mph | 153 | 94 | 63% Better |
Water Penetration mph – Specifies wind load pressure in mph a window can withstand without leaking, under rain equivalent to 8″ per hour.
Structural Integrity mph – Wind load in mph the a window can withstand before breaking.
All results numbers are based on tested window sample by NFRC & AAMA testing window guidelines. Use for comparison

purposes only. Actual values may vary depending on installation, size of the window, and other conditions.
Are you looking for a stunning design detail to instantly set your home apart both inside and out? A choice of decorative grids for your windows & doors can highlight the architectural style that speaks to you.
Grids between glass (GBG) consist of aluminum bars sealed in the insulating airspace between the two panes of glass. Because the interior and exterior glass surfaces are not affected, cleaning your windows is a much easier task. GBG grids on two-tone windows are available with matching interior and exterior colors.
Most Common Grid Patterns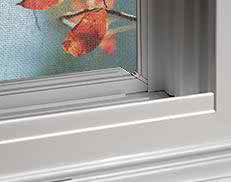 Our company offers factory-installed half screen with heavy-duty handle. Screens are removable from the inside for convenient storage. Optional locking screen provides an additional safety measure.*
(* Insect screen cannot support significant amounts of weight. Please keep small children and pets away from windows when only insect screens are in use.) Our company offers ThruVision® Screen standard on the 500 Series to improve the view through the window while protecting the interior from insects and allowing proper ventilation.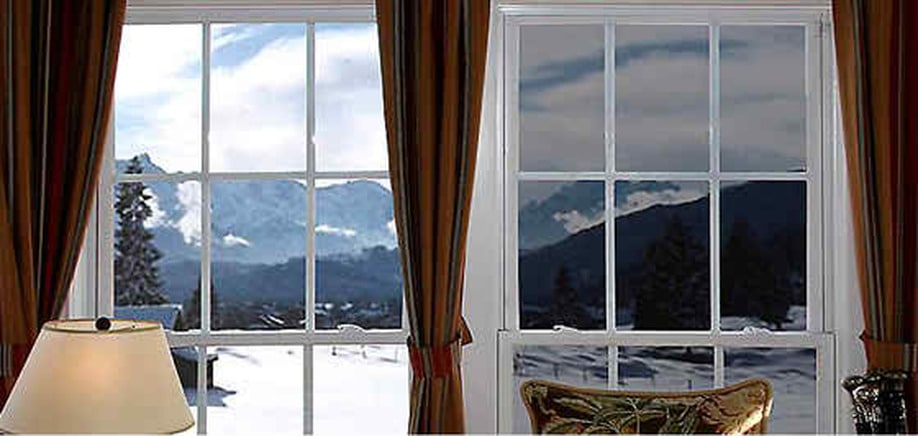 | | |
| --- | --- |
| ThruVision® Screen | Competitor's Screen |
Do you need help with window installations?
Fill out this form to get in touch.